Exhibition, 2015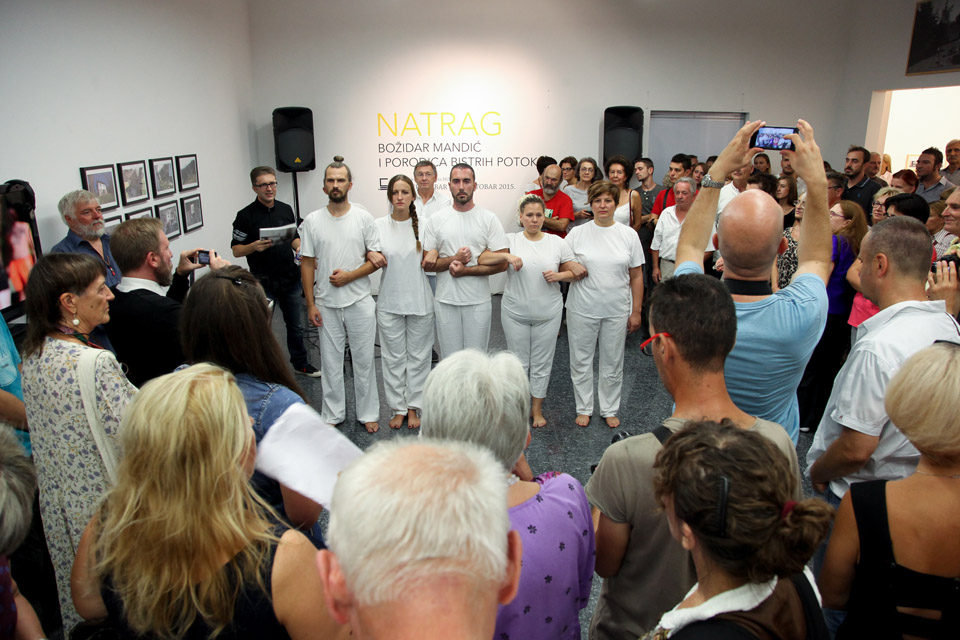 The exhibition
BACK: Božidar Mandić and The Family of Clear Streams (1969 – 2015)
was comprised of two parts.
The first was dedicated to the life and work of Božidar Mandić in Novi Sad in the late 1960s and during the 1970s. Bottle with milk (Flaša s mlekom), an artistic action originally performed in 1969 was reconstructed. There was a screening of the movie Maniac 7001 (Manijak 7001) shot on 8mm film by the brothers Miroslav Mandić and Božidar Mandić and of Gregor Zupanac's documentary Lestvica about Božidar Mandić. Božidar Mandić's first solo exhibition on display in the Youth Tribune venue entitled One evening called evening (Jedno veče zvano veče) was also presented. A review published in Index magazine made its reconstruction possible. Extensive photo documentation was also a part of the exhibition.
The second part of the exhibition is a presentation of Božidar's life and work in the Family of Clear Streams commune. Exhibited items are made of natural materials: wood, straw, dung and stone. By using these materials, the artist is, in the words of the curator and author of the exhibition, "trying to evoke the energy of nature, and of pagan and mystic elements within the gallery". Some of them are Stones without inscriptions, potatoes without pesticide (Kamenje bez citata, krompiri bez pesticida; 2013), Volition (Htenje; 2010), Identity (Identitet; 1997), Sculpture of the wind (Skulptura vetral; 1980), Iron and dung (Gvožđe i balega; 1987), and Trace (Trag; 1979). They are permanently exhibited in the commune. Fourteen issues of the Breza family magazine, which was published until 1981, were also exhibited. All issues are one of a kind and they can only be read at the Family of Clear Streams commune.
The Museum of Contemporary Art of Vojvodina purchased the movies
Maniac 7001
and
Horses
(
Konji
) made by the urban commune in Novi Sad, but they are still not on permanent display due to a lack of exhibition space. Some of the material, available in DVD format, was provided by The Public Broadcasting Service of Vojvodina, as because Božidar has only the VHS.
Atsauču saraksts
Milenković, Nebojša, interview by Jelena, Vukmanović, May 28, 2018. COURAGE Registry Oral History Collection
2019-01-14 11:55:30