Publication: ICSC. Țăranii și comunismul (Peasants and Communism), 2009. Audiobook.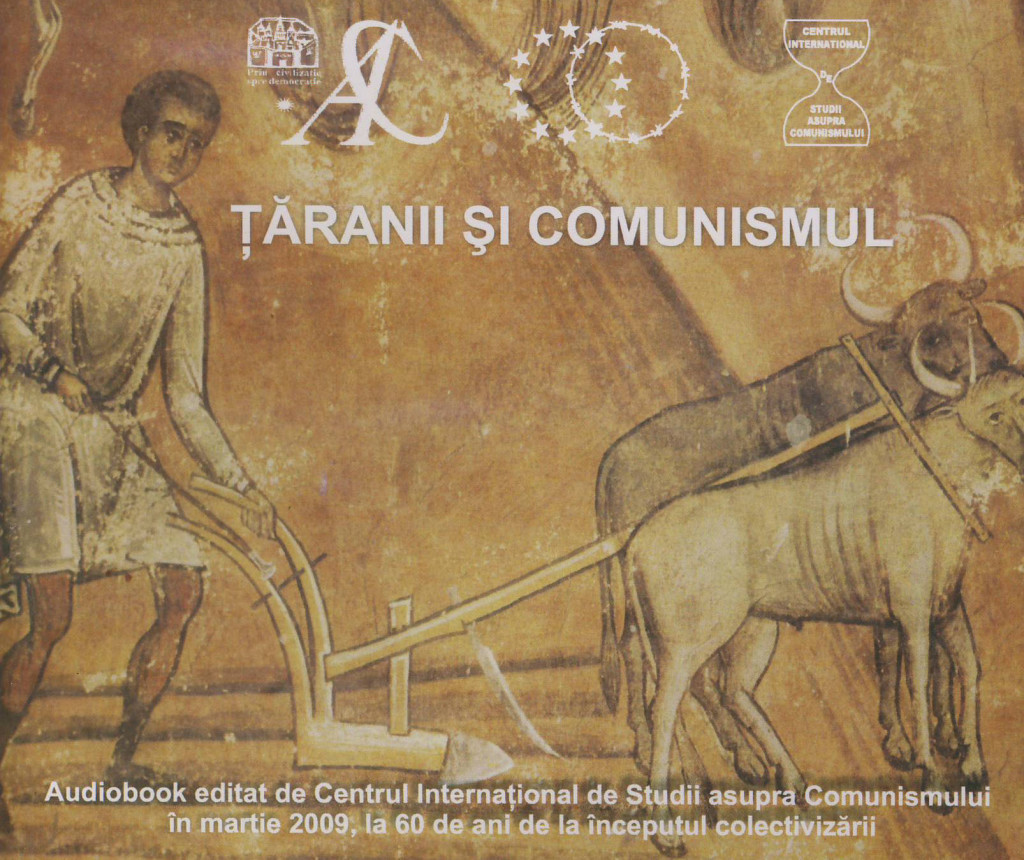 A small part of the thematic documentation that is stored, in the original, in the Sighet Memorial's oral history archive has been converted and distributed in the form of two thematic audiobooks. Chronologically speaking, Țăranii și comunismul (Peasants and Communism) was launched first, in 2009, to mark sixty years since the start of the communist collectivisation of agriculture in Romania. On this support, ten interviews are stored with peasants who witnessed the collectivisation process. The interviews are part of the oral history archive of the International Centre for Studies into Communism, part of the Memorial to the Victims of Communism and to the Resistance. The selection and editing of these testimonies was the work of Andreea Cârstea, and the musical illustration is by Grigore Leşe. On the back cover of this audiobook, Romulus Rusan offers a moving characterisation of the profound effects that the communist collectivisation, and implicitly the destruction of private property rights over land, had on the social identity of the peasants, on their way of life, and, not least, on their mentalities and behaviour: "They were always on the battlefield. They fought with Tatars, with Turks and Russians, with droughts and floods, with officials and activists, with taxes and quotas. They were always both vanquished and victors, for their sacrifice kept feeding the continuity of history. The struggle with the communists, however, left them permanently defeated, for it deprived them not just of their lives, but of their roots. Without land, the peasants lost what defined them. They set out into the wide world, moving to the town and leaving the land and the homestead in the care of the women and children, and the harvesting to students and soldiers. Those who remained to work the land began to "steal" from the communal wealth, which was in fact their own wealth, taken from them by force. Today the sacrifice of the peasants who revolted in 1949–1950 comes down to us as a romantic episode. The final uprisings in 1960–1962 seem like medieval sieges. The day in April 1962 when it was decreed that collectivisation was completed is like the fall of Constantinople. Just as the pictures in Hagia Sofia illustrate a world foreign to that which was to come, so the peasants are projected into the reality of our time as martyrs without haloes. Cut down by bullets or by ideology, they were the most numerous and most innocent prey of communism." Thus Romulus Rusan sums up the sad story of the collectivisation of the rural world in communist Romania.
Galvenie dalībnieki
Ieraksta autori
Petrescu, Cristina
Pătrăşconiu, Cristian Valeriu
Atsauču saraksts
Rusan, Romulus, ed. 2009. Țăranii și comunismul (Peasants and Communism). Bucharest: Fundația Academia Civică.
Ioana, Boca, interview by Pătrăşconiu, Cristian Valeriu , July 11, 2018. COURAGE Registry Oral History Collection
2018-08-06 14:13:20