D fond - prepovedana literatura (1945-1991)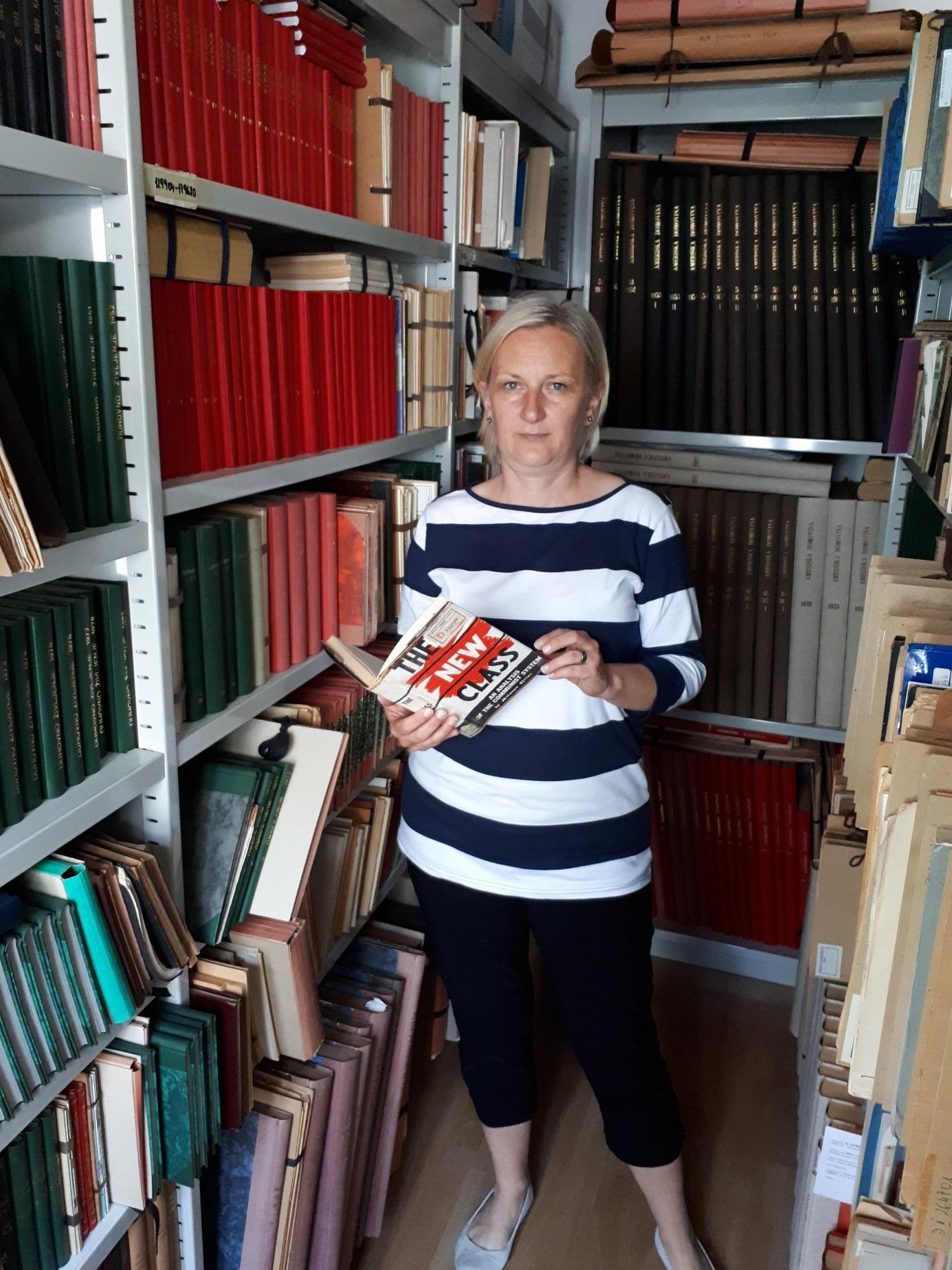 The collection of the D-fund of Prohibited Literature (1945-1991) is located in the National and University Library in Ljubljana and forms an integral part of the Slovenian Press Collection Outside of the Republic of Slovenia. The D-fund mostly contains books and periodicals published outside of socialist Yugoslavia and those primarily pertaining to the Slovenian émigré scene. However, a smaller part of the same fund encompasses the émigré literature of other Yugoslav peoples. In this sense, the D-fund also belongs to the culture of dissent.
Valodas
angļu
franču
horvātu
itāļu
serbu
slovēņu
Mājaslapa
Kolekcijas nosaukums
D-fund prohibited literature (1945-1991)
Izcelsme un kultūras darbība
The D-fund (the 'D' stands for "director," because the materials was held in the office of the library's administrator (director)) was established at the National and University Library in 1945. Its emergence is tied to the censorship that officially did not exist as a legal and administrative category in socialist Slovenia and Yugoslavia. For this reason, there was a huge gap between de iure and de facto prohibited literature. Throughout Yugoslavia there were only eleven prohibited books, out of which only four books were in Slovenia, while the D-fund collection showed that many more books were actually banned. The Administrative Act stipulated that prohibited literature should be submitted to the National and University Library in Ljubljana. Namely, Article 11 of the Press Act of 1945 prohibited the distribution and sale of certain books and other printed materials. All these measures should be seen in the context of the decision made by the Communist Party of Yugoslavia (CPY) to thoroughly purge cultural institutions of "reactionary" literature (interview with Janežič, Helena).

Since its establishment, the National and University Library in Ljubljana had all legal assurances that it could collect the press of both Slovenian and other South Slav political émigrés and also the other materials regarded controversial by the regime. By law, these materials had to be bibliographically processed, stored in a special place and given to users only for scholarly research. The entire records were named the D-fund because it was originally stored in the director's office, and until 1991 this fund was subject to special access conditions. It therefore required consent from the authorities to consult the books and periodicals in the D-fund. Each user had to explain in detail the purpose for consulting the materials and could do so privately, but rather had to secure a recommendation from an official institution. Such rules were valid only for university libraries, because in school and other public libraries did not receive prohibited books and journals. Anyone who wanted to access the D-fund had to provide all details, which meant it could come under the oversight of the secret police (UDBA) (interview with Janežič, Helena).

While the collection of D-fund has been collected since 1945, it was formally established in 1978. Since it was originally gathered in the director's office over the years, there was no adequate space, and then the books and magazines were put in a special place. A former employee of the Interior Ministry, Mrs. Milica Strgar, was appointed to head the collection. She arranged and catalogued it, and the library's director granted a small number of people access to the collection, since only those who were, according to the precepts of Yugoslav socialism, "morally-politically loyal people" could be approved, i.e., scholars and researchers who had proven their loyalty to the regime. The inventory data from the D-fund's collection did not appear in publicly available catalogues, however, books and magazines were regularly listed in the Slovenian bibliography. After 1978 there are no records of D-fund users, so it was not possible to find out who used it during the socialist era (interview with Janežič, Helena).
Satura apraksts
The collection of the D-fund has been inventoried and encompasses 673 monographic publications of various books and a total of 145 periodicals of various kinds. Mostly, the collection contains anti-communist books and publications that questioned the existing regime in socialist Slovenia and Yugoslavia. The biggest contribution of these publications was made by Slovenian political émigrés in Argentina. Additionally, there is also a smaller part of the publishing inventory that cover dissident literature, of which the most prominent author is Milovan Đilas, his works mostly in English translation (interview with Janežič, Helena).

The periodicals are also mostly tied to the activities of the Slovene political emigration and its newspapers and magazines. In this portion, the collection provides very good insight into the history of Slovenian political émigré communities and their views on the state of the country. Practically, in terms of content, it is actually an émigré collection. In addition to political and ideological themes, there are pure literary and cultural themes in the broader sense that émigrés have dealt with. Likewise, on the basis of all this material it is possible to keep in mind that all of these topics and the way they were processed were not acceptable to the communist authorities. The collection has been preserved in physical form and has not been digitized. The languages used in the collection are primarily Slovenian, but there are other languages, such as Serbo-Croatian, English, French, Italian and others (interview with Janežič, Helena).
Operators/-i
Īpašnieks/-i
Kolekcijā ieinteresētā/-ās persona/-as
Darbības ģeogrāfiskais mērogs pēdējā laikā
Izveidotāji
Krājējs/-i
Svarīgi notikumi kolekcijas vēsturē
Piekļuves veids
publiski pilnībā pieejams
Atsauču saraksts
1) Cenzurirano: zgodovina cenzure na Slovenskem od 19. stoletja do danes. Ljubljana: Nova revija, 2010.
2) HORVAT, M. Prepoved razširjanja tiskane besede v Sloveniji 1945-1990: diplomska naloga. Ljubljana: Univerza v Ljubljani, Fakulteta za družbene vede, 1995.
3) JANEŽIČ, H. O prepovedanih knjigah: literatura, nasprotna našemu gledanju na poglavitna življenjska vprašanja. Slovenski čas, 2016, 70.
4) KODRIČ-DAČIĆ, E. Jaz, Cerberus [ali] Cenzura v knjižnicah: razstavni katalog. Ljubljana: Narodna in univerzitetna knjižnica, 1996.
5) SIMČIČ, Zorko. Človek na obeh straneh stene, Buenos Aires: 1957.
6) SIRC, Ljubo. The Yugoslav Economy under Self-managment, Zagreb, London and Bastingstoke: Palgrave Mac Millan, 2008-2009.
7) STRGAR, M. Narodna in univerzitetna knjižnica v Ljubljani zbira in hrani tudi tisk s sovražno vsebino. Knjižnica, 1982, 26 (3/4), str. 203-206.
8) STRGAR, M. Slovenski tisk v begunskih taboriščih v Avstriji in Italiji. Knjižnica, 1984, 28 (3/4), str. 243-248.
9) ŠVENT, R. Prepovedani tiski v Narodni in univerzitetni knjižnici. Knjižnica, 1997, 41 (1), str. 137-141.
Janežić, Helena, interview by Kljaić, Stipe , May 24, 2018. COURAGE Registry Oral History Collection
2020-02-06 20:22:41