A Vera és Donald Blinken Nyílt Társadalom Archívum szamizdatgyűjteményei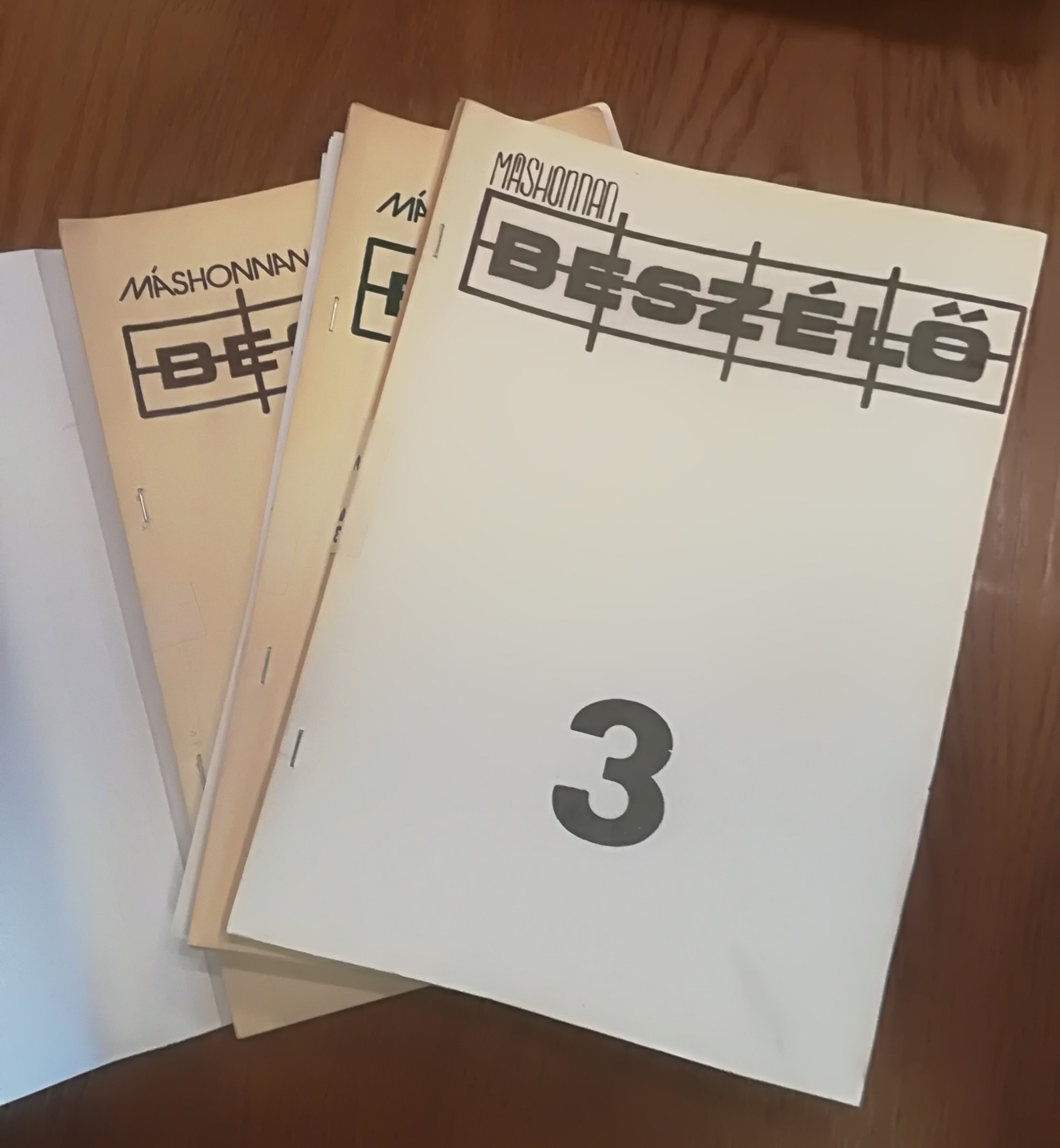 The samizdat holdings in the Vera & Donald Blinken Open Society Archives is a unique collection of illegal publications of the Hungarian oppositional intellectual circles. Though censorship was milder in Hungary than it was in the other countries of the Eastern Bloc, it would not have been possible for these volumes to have been published in socialist Hungary without independent publishers in the secondary public sphere, or "islands of the free press."
Mājaslapa
Kolekcijas nosaukums
Samizdat Collections in the Vera & Donald Blinken Open Society Archives
Izcelsme un kultūras darbība
The collection of the Vera & Donald Blinken Open Society Archives is based on the archives of Radio Free Europe (RFE) and the documents of the Research Institute of Freedom Radio. Nevertheless, the Hungarian samizdats did not become part of the archive as part of this process. The national sub-collections of RFE (of these, the Russian and Polish units are some of the biggest in the world) did not include Hungarian items. András Mink, a colleague at the Blinken OSA Archives who has been taking part in this work since the early stages, said in a COURAGE interview that the RFE-collection must have contained Hungarian items, as several radio programs were based on such information, but this material may have been lost or may have become private property

Gábor Demszky was the first person to donate his samizdat collection to the archive. He had a personal relationship with the leader of the archive, István Rév, who participated in the organizing of free universities. Demszky officially opened the Blinken OSA Archives on 15 March 1996. An important aspect of his decision was that he did not want to choose a state-controlled and supported institution as a place to preserve his samizdats. The Blinken OSA Archives, as an independent archive, was attractive for people who thought in this way. Since Demszky himself operated a samizdat publishing office and edited journals, he definitely had duplicate copies, which obviously made it easier to donate his collection.

The arrival of one group of documents motivated owners of similar collections to make donations. Blinken OSA Archives became famous as a samizdat collecting archive. In addition to Gábor Demszky, other key figures of the cultural opposition, such as György Krassó, philosopher János Kis, and film director Pál Schiffer, gave their illegal books and journals to the archive, though these donations were only made about 10 years later.

The creating of uncensored publications began to become widespread in Hungary in 1977, following the Russian movement model and through Polish mediation. In this early period, the most significant samizdats were the anthology entitled Marx in the Fourth Decade, Profil (edited by János Kenedi), and the Bibo Memorial Book edited by Ferenc Donáth and others. Beszélő ("Speaker"), Máshonnan beszélő ("Speaker from Somewhere Else"), Hírmondó ("Messenger"), Égtájak között ("Between the Poles"), Demokrata ("Democrat"), and Magyar Zsidó ("Hungarian Jews") were the important Hungarian samizdat journals. Beszélő was exceptional, as it was in publication for decades. The other journals existed only for a shorter time and were published in only a few issues. These issues were mostly created by typewriter, the copying technique developed from the stencil through the so-called "ramka" to the offset printing.

The "ramka" was an invention of the Polish opposition. It was a simple screen-printing machine which required difficult, time-consuming physical work but which nonetheless revolutionized people's ability to make copies of written documents. The Hungarian activists learned this practice from the Polish experts: László Rajk, Jr. traveled to Poland at the request of János Kis and Géza Bence. Gábor Demszky took a trip as a private initiative to learn about underground samizdat printing. The technique of "ramka" soon became popular. Demszky's publishing office and Jenő Nagy's publishing office used it, as did other, smaller publishers. We find numerous books and journals made using the "ramka" technique in the collections of the Blinken OSA Archives.

By following the Polish model, the opposition gradually separated into open opposition and clandestine opposition. In public, the editors' names appeared in the journals, and the presence in the public eye protected them, but the background staff, printers, and members of the distributing networks operated in a secret, conspiratorial way. The AB Independent Publishing House, the first samizdat publishing office, was in operation from 1982 to 1989. It published books with political subjects and literature by Hungarian and foreign authors (George Orwell, Vaclav Havel, Milan Kundera, etc.). Jenő Nagy's ABC Publishing House, György Krassó's Hungarian October publishing house, and other smaller groups were also active and contributed to the availability of illegal publications. In May 1989, the government ended the rule according to which all publications had to be checked by the government before going to press and permission had to be granted by the censors for publication. The age of Hungarian samizdats thus came to an end.

The samizdats as memorial objects bear the marks of the circumstances under which they were created, i.e. by hand. Pages are pinned with paper clips and handwritten texts have been added to the covers of books and journals. Interruptions in publication and varied lengths and formatting are all indications of the ways in which the alternative printing studios were compelled to work.

In some publications, one finds messages from the editors which are actually additional information about the history of the creation of a samizdat. The last page of Beszélő includes the editors' names and addresses. The handwritten handout is about the publishing method used in the creation of the texts sent to the editorial office, the purchasing possibilities in the so-called Samizdat boutique (in László Rajk's flat), and the cost of the production process.

On the last page of György Konrád and Iván Szelényi's essay-collection entitled Az értelmiség útja az osztályhatalomhoz ("The intellectuals on the Road to Class Power"), we read the publication history of the book and the authors' story about their interrogation and Szelényi's emigration.

The Blinken OSA Archives joined the project of Samizdat Text Corpora (STC) of the International Samizdat [Research] Association (IS[R]A) in 2006. The aim is to compile a unified catalogue of the samizdats which were made in different languages and in different countries to facilitate research.
Satura apraksts
There are some overlaps in the samizdat collections of the Vera & Donald Blinken Open Society Archives which indicate that the individuals in question belonged to the same oppositional-intellectual circle which created and consumed these publications, especially the essential journals, for instance Beszélő ("Speaker"), AB Hirmondó ("Messenger"), and Demokrata ("Democrat"). The types of further smaller periodicals or books which became part of the collection were influenced by the given person's interests and his/her connections. Finally, several factors determined which items from among this vast group of sources were saved and kept in the archive.

The documents include periodicals, books, and manuscripts. They covered (according to the themes of the oppositional performances, demonstrations, alternative lectures) current political issues, the history and memory of the suppressed Revolution of 1956, and the situations of the Hungarian minorities in the neighboring countries.

One example of the manuscripts is the draft of a commemoration of 1956. This event took place in István Eörsi's flat. He was a participating writer in the revolution. We also find a typewritten text about audio recordings of a debate series on the second public sphere in 1982.

Gábor Demszky's collection includes a fairly complete series of the most famous Hungarian samizdat periodicals, including Beszélő ("Speaker") and its special issues, Hirmondó ("Messenger"), which was edited by Demszky, and other journals, publications of AB Independent Publishing House, and Hungarian dissenters' books and pamphlets. Moreover, the collection also includes objects, i.e. examples of the tools which were used in the underground printing process, including a so-called "ramka," a stencil machine, a stencil knife, and a tube of ink.

Géza Sáska, a sociologist and expert in the field of educational policy, participated in the activity of the democratic opposition from the outset. He maintained a collection of samizdat holdings in his garage, and he was active in the distributing process, as well. His flat was one of the meeting points for some dissenters. His collection mainly includes volumes of AB, ABC, Hungarian October Publishing House, journals, and émigré publications. Among the manuscripts, we find notes of lectures by Miklós Szabó's which he delivered during the sessions of the Monday Free University in 1981. The collection has been kept in the Blinken OSA Archives since 2004.

György Krassó's heir donated journals from Hungary and Transylvania which he himself collected, created, and distributed abroad. The collection also includes editions of the Bibó memorial book and literary works by numerous oppositional authors, including György Konrád, János Kenedi, István Kemény, Miklós Haraszti, and György Petri. These issues were mainly published by ABC Publishing House.

Philosopher János Kis's collection also contains almost the whole series of the most important aforementioned journals, issues of ABC and Hungarian October Publishing House and works by authors from outside of Hungary (Vaclav Havel and E. P. Thompson). Among the manuscripts, there are texts about the Hungarian Revolution of 1956. The minutes of the oppositional Monor Meeting in 1985 and an issue of the Bokor Base community which was illegal at the time are among the new items. The collection has been held in the Blinken OSA Archives since 2004.

Filmmaker Pál Schiffer preserved works by István Bibó, János Kenedi, and Pál Szalay, as well as manuscripts of interviews, letters, and the catalogue of an art auction organized in 1980 by the opposition civil organization SZETA (Szegényeket Támogató Alap, Fund for the Support of the Poor). After Schiffer's death, his daughter and former colleague donated his personal documents and samizdats to the Blinken OSA Archives in 2004.
Saturs
aprīkojums (rakstāmmašīnas, kopējamās ierīces, audio-video iekārtas utt.): 0-9
artefakti: 0-9
publikācijas: 100-499
Operators/-i
Īpašnieks/-i
Darbības ģeogrāfiskais mērogs pēdējā laikā
Temati
Izveidotāji
Satura veidotāji
Krājējs/-i
Atbalstītāji
Svarīgi notikumi kolekcijas vēsturē
Nozīmīgi vienumi
Piekļuves veids
apmeklējums pēc iepriekšēja pieteikuma
Atsauču saraksts
Mink, András. Interview by Péter Apor and Tamás Scheibner. COURAGE Registry Oral History Collection. July 4, 2017.
Bozóki, András. "A MAGYAR DEMOKRATIKUS ELLENZÉK: ÖNREFLEXIÓ, IDENTITÁS ÉS POLITIKAI
DISKURZUS." Politikatudományi Szemle 19, no. 2 (2010), 7-45. http://www.poltudszemle.hu/szamok/2010_2szam/2010_2_bozoki.pdf.
Kőszeg, Ferenc. "AZ M. O. KIADÓ." Beszélő 1, no. 14 (1985). http://beszelo.c3.hu/cikkek/az-m-o-kiado
Sükösdi, Miklós. "A szamizdat mint tiposzféra. Földalatti nyomtatási kultúra és független politikai kommunikáció a volt szocialista országokban." Médiakutató, 2013, 7-26. http://www.mediakutato.hu/cikk/2013_02_nyar/01_szamizdat_tiposzfera.pdf
Nóvé, Béla. Múltunk, ha szembejön: önkényuralmi emlékeink. Budapest: NORAN LIBRO KIADÓ, 2013.
Demszky, Gábor. Elveszett szabadság: Láthatatlan történeteim. Budapest: Noran Libro Kiadó, 2012.
Csizmadia, Ervin. "A szamizdat szubkultúrája." Budapesti Negyed 1998, no. 4 (Winter 1998). http://epa.oszk.hu/00000/00003/00005/129-172.html
Demszky, Gábor. "A szamizdat mint értékteremtõ műfaj Rajk László művészetében." n.d. http://rajk.info/en/samizdat/demszky-gabor-a-szamizdat.html
"Az OSA Archivum." n.d. http://osaarchivum.org/index.php?option=com_content&view=article&id=48&Itemid=133&lang=hu
Tóvári, Judit. "Az OSA (Open Society Archivum) Archívum." In Forráskutatás a világhálón. Eger: Eszterházy Károly Főiskola, 2014. https://www.tankonyvtar.hu/hu/tartalom/tamop412A/2011-0021_17_forraskutatas_a_vilaghalon/adatok.html
Danyi, Gábor. ""Do it today – Tomorrow it may be illegal!" - PSZR elveszett rövidfilmje az illegális nyomtatás folyamatáról." Last modified August 7, 2015.
http://www.osaarchivum.org/blog/%E2%80%9EDo-it-today-%E2%80%93-Tomorrow-it-may-be-illegal%E2%80%9D-PSZR-elveszett-r%C3%B6vidfilmje-az-illeg%C3%A1lis-nyomtat%C3%A1s-fo
Mink, András, interview by Scheibner, Tamás, Apor, Péter, July 04, 2017. COURAGE Registry Oral History Collection
2020-09-25 16:24:03