Đekić, Velid. 91 decibel: vodič rock' n'roll Rijekom (91 decibels: A guide through the rock 'n' roll scene of Rijeka), 2009. Publication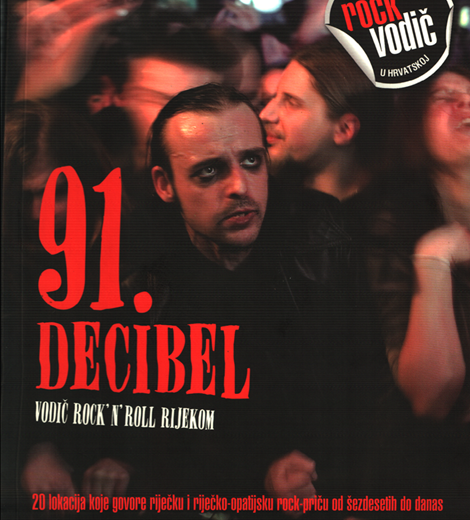 Velia Đekić's book 91 decibel is a sort of rock guide to the well-known locations of Rijeka's rock scene. In the book, Đekić covers the period from the late 1950s until the end of the 1990s, and takes us through the locations where many of today's cult Rijeka bands began their careers. Thus, the guide mentions Uragani as the first rock band in the then socialist Yugoslavia, as well as Paraf, which, along with the Slovenian band Pankrti, are considered the first punk bands in the socialist countries in Europe. Throughout the book we can keep track of how rock 'n'roll evolved over the years into numerous subgenres. Youth hangouts evolved together with rock 'n'roll.
Rijeka entered the rock 'n'roll revolution with small and crowded spaces, where it was possible to listen to music for "dances from LP records," which then gave way to several larger and smaller concert venues by the beginning of the new millennium. The stages of the Youth Hall, Palach, Circolo or Hartera are venues where domestic and international rock performers play regularly. The author published numerous photographs in the book that show the spirit of rock 'n' roll that has been in Rijeka for over fifty years.
Galvenie dalībnieki
Atsauču saraksts
Đekić, Velid. 2009. 91 decibel: vodič rock' n'roll Rijekom. Zagreb: Meandarmedia.
Đekić, Velid, interview by Godić, Darjan, March 21, 2018. COURAGE Registry Oral History Collection
2018-08-30 07:11:42